ABOUT

UC SAN DIEGO
At the University of California San Diego, we prefer the path less traveled. And it has led us to remarkable new ways of seeing and making a difference in the world.
We Make Changemakers
Recognized as one of the top 15 research universities worldwide, our culture of collaboration sparks discoveries that advance society and drive economic impact. Everything we do is dedicated to ensuring our students have the opportunity to become changemakers, equipped with the multidisciplinary tools needed to accelerate answers to our world's most pressing issues.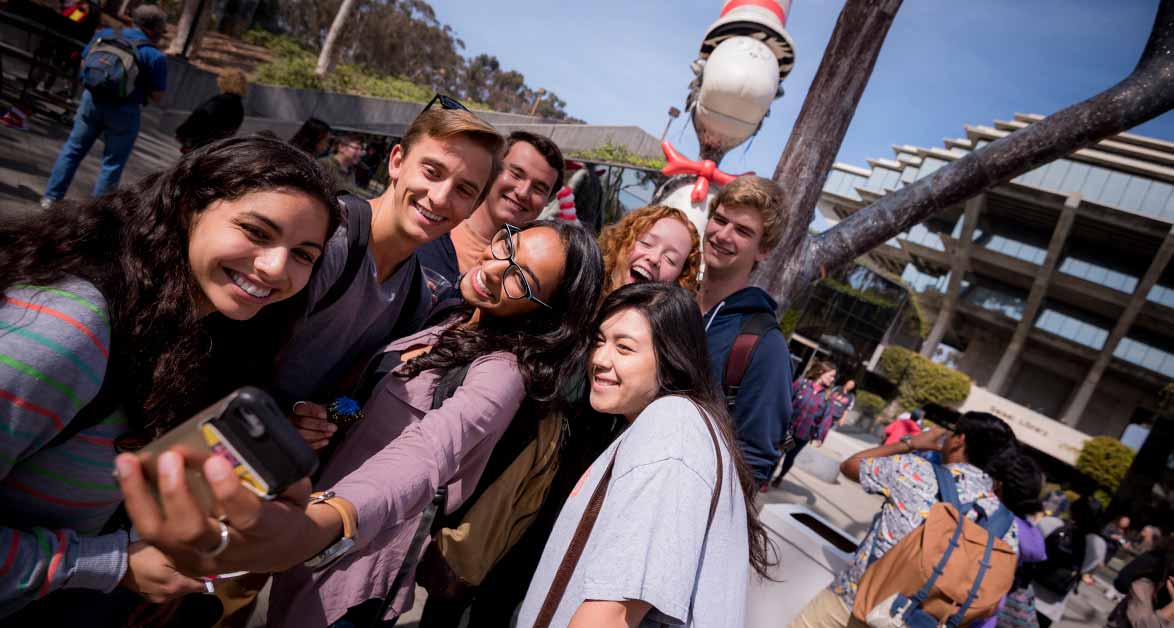 UC SAN DIEGO

BY NUMBERS
UC San Diego is a rich, collaborative environment powered by bright minds dedicated to making a difference.
Learn More
Over $1 billion in annual research funding
650+ companies have been launched by or use technology produced by faculty, staff and alumni
16 Nobel laureates have taught at UC San Diego
Faculty honors include Nobel Prize, Fields Medal, Tony Award, Pulitzer Prize and Presidential Medal of Freedom
225,000 UC San Diego alumni worldwide
800+ alumni have served as Peace Corps volunteers
Top enrollment among San Diego colleges and universities
UC San Diego occupies 1,200 acres overlooking the Pacific Ocean
36,400 total campus enrollment (as of fall 2017)
161 National Academy memberships held by current and former faculty
OUR MISSION
UC San Diego is transforming California and a diverse global society by educating, by generating and disseminating knowledge and creative works, and by engaging in public service.
OUR VISION FOR THE FUTURE
We will prepare the next generation of global leaders to channel their passions into driving innovation, fueling economic growth and making our world a better place.
INNOVATION RUNS DEEP. IT'S IN OUR DNA.
Our founders had one criterion: to be distinctive. Explore UC San Diego's standout moments.
CREATING A HEALTHIER WORLD,
ONE LIFE AT A TIME
UC San Diego is affiliated with UC San Diego Health, which is consistently ranked among the top health care systems in the nation for advanced specialty care.
Reimagining Public Art
UC San Diego is home to the world renowned Stuart Collection, a unique assemblage of site-specific works by leading artists of our time. From the iconic "Sun God" sculpture to the gravity-defying "Fallen Star" atop Jacobs Hall, these public art pieces are intimately tied to the identity and life of the campus.